STEEL MILL AND SENDZIMIR STEEL MILL
THE SHEET METAL ROLLING PROCESS
The sheet metal rolling

is the way to obtain the hot or cold
plastic deformation of a metal,
progressively reducing its thickness.
The main types of rolling mills are named
according to the number of cylinders
which make up each rolling stand.
This is the fundamental part of the mill,
and consists mainly of working cylinders
whose ends are supported by special housed bearings
in two sturdy uprights connected together at the top by a crossbar.
HOT AND COLD ROLLING MILL
STEEL INDUSTRY SPECIAL SECTIONS
WORK ROLL - MULTIROLL, FOUR-ROW CYLINDRICAL ROLLER BEARING (SECTION)
MULTIROLL

Four-row cylindrical roller bearings are generally used on the neck of milling cylinders, of calenders and rolling presses.
They are particularly suitable on high speed steel mills.
Thanks to the high quality of rolling raceways, the radial load capacity is extremely high.


MULTIROLL,
FOUR-ROW CYLINDRICAL ROLLER BEARING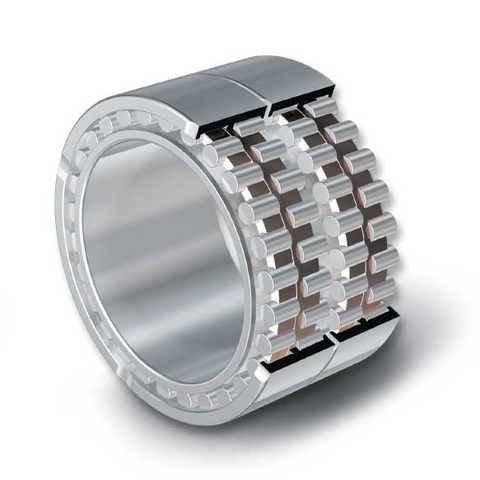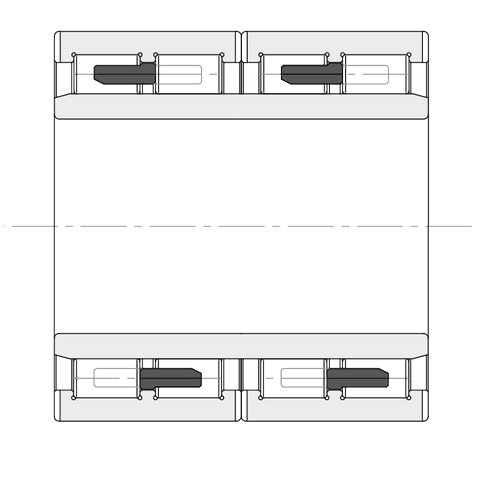 Four-row cylindrical roller bearings are demountable, that is to say, the outer ring and the cages form a unique body ("R") and can be fixed independently from the inner ring ("L").
This makes the assembling and the maintenance of milling plant easier. This series of bearings is available with different executions, according to specifications, application and maintenance.
They differ from each other in the shape and in the number of parts that build the whole.


DISTRIBUTION OF WORK ROLLS

SENDZIMIR BACK-UP ROLLER (SECTION)
Among the multi-cylinder rolling mills, the best known is the Sendzimir rolling mill, used for the rolling of the strips.
It consists of a pair of large diameter cylinders on whose circumference other small diameter cylinders (planetary) are located, which are the work rolls.
By the Sendzimir rolling mill it is possible to obtain, with a single pass, very high section reductions comparable to those achievable in a duo rolling mill with 5 ÷ 6 passes.
SENDZIMIR BACK-UP ROLLER
WITH TWO/THREE/FOUR ROWS OF ROLLERS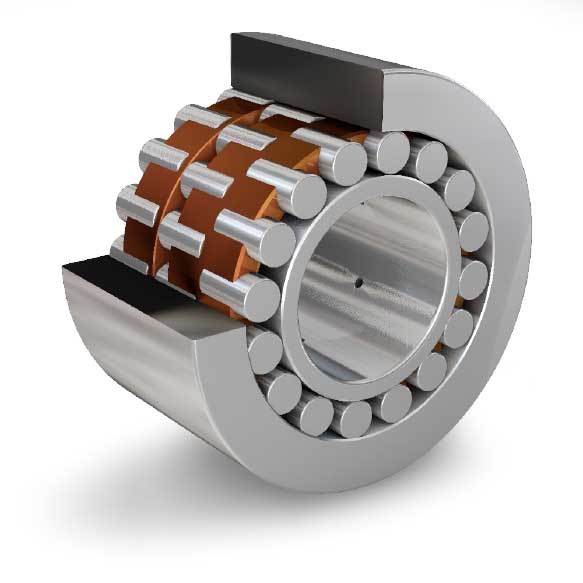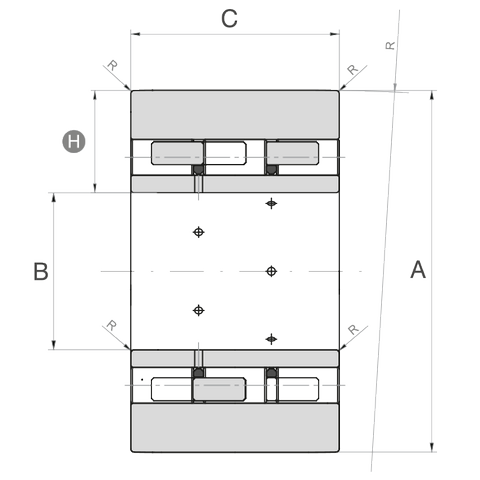 Shoulder bearings have been projected on purpose for Sendzimir cold steel mills: they can be used also in straightening or flattening machines. Shoulder bearings show different shapes in construction, in order to fulfill several application requirements. Cylindrical roller shoulder bearings can have up to 4 rows of rollers, with cages or without cages. They have the advantage of having a simple shape and a high radial load capacity. Some series are manufactured with entire edges obtained on the outer ring, other series are without entire parts, with distance rings and lateral thrust rings. The material used for the production of the outer ring can be of two types, according to the requests of the customer
- 100CrMo7.3 with core hardening,
- 18NiCrMo5 with 3,5 mm cementation depth,
with extreme precision in the working tolerances, radial clearance, hardness and load capacity.