Tapered rollers for conveyor belts
Technical Drawing and Exploded View - Tapered rollers for conveyor belts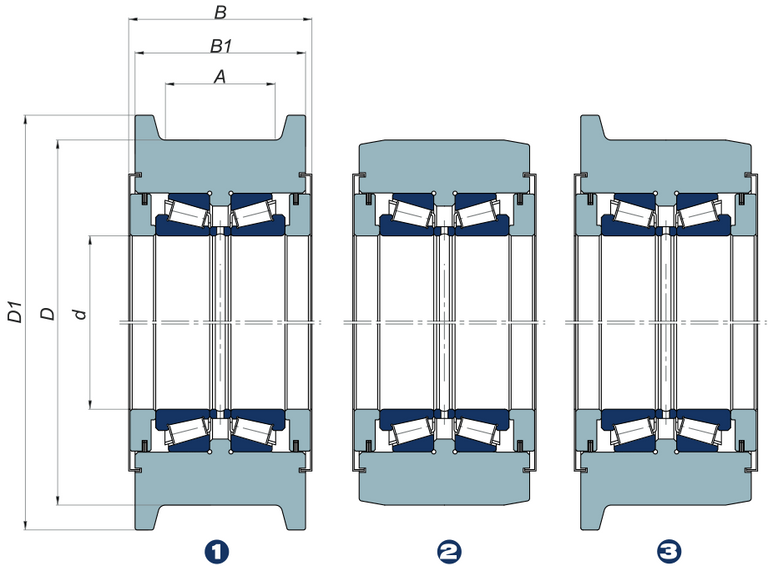 Technical Data - Tapered rollers for conveyor belts
| C.R. rif / ref | d (mm) | D (mm) | D1 (mm) | A (mm) | B1 (mm) | B (mm) | C (KN) | Co (KN) | Max speed (RPM min-1) |
| --- | --- | --- | --- | --- | --- | --- | --- | --- | --- |
| 900-1946 / A | 50 | 125 | 140 | 45 | 70 | 75 | 98 | 177 | 2.400 |
| 900-1946 / B | 60 | 150 | 170 | 55 | 80 | 85 | 131 | 246 | 2.100 |
| 900-1946 / C | 70 | 165 | 190 | 60 | 85 | 90 | 163 | 306 | 1.800 |
| 900-1946 / D | 80 | 185 | 210 | 65 | 95 | 100 | 219 | 426 | 1.600 |
| 900-1946 / E | 100 | 215 | 250 | 75 | 105 | 115 | 275 | 552 | 1.300 |
| 900-1946 / F | 120 | 255 | 290 | 85 | 120 | 130 | 390 | 824 | 1.100 |
C: Dynamic load - Co: Static load
Technical Characteristics - Tapered rollers for conveyor belts
Series of rollers with different profiles of the outer ring have been developed for various applications in the field of steel industry.
They are mainly used as support bearings in conveyor belts for coils.
The execution with tapered rollers is particularly suitable in case of high radial loads and strong axial thrusts, which are due to the shape and the length of the belt.
As the path of transportation is not linear, variations of directions of the applied load should be foreseen.
These tapered roller bearings are fixed in pre-loaded groups through an adjusted central distance ring.

Tapered rollers for conveyor belts have the following characteristics:
The outer ring is usually supplied in cementation steel UNI 16NiCr4 and reaches hardness degree of 60-2 HRC. The profile of the outer ring is available in three different executions:
1) ring with double guide border on the outer surface,
2) ring with outer surface without borders;
3) ring with one guide border on the outer surface.


The rollers have a double protection system, which is made of steel shields and steel elastic layered steel.
Grease lubrication is made through a groove on the inner distance ring.