Radial bearings with PIVOT
Technical Drawing and Exploded View - Radial bearings with pivot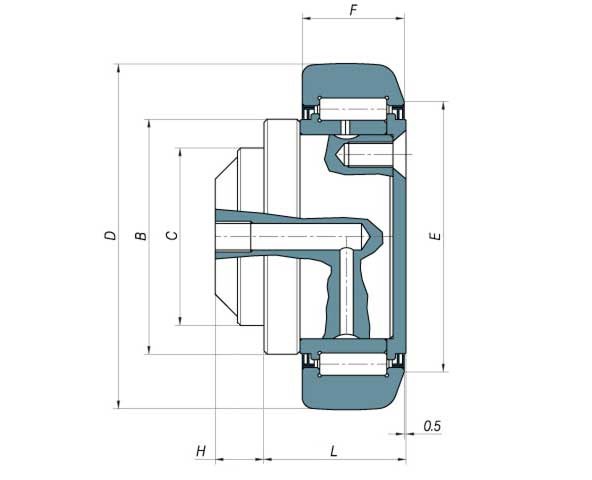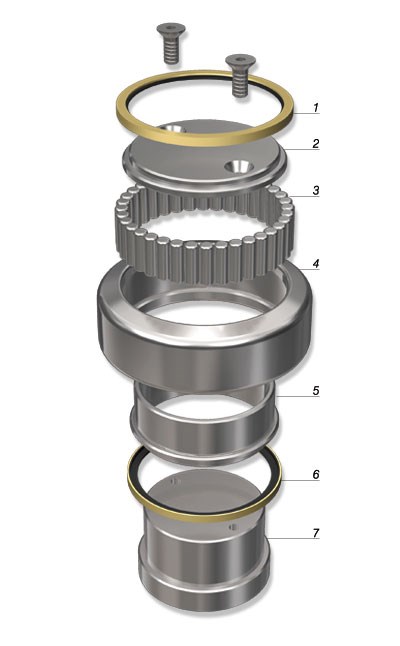 1. ZrRS seal ring
2. Support thrust ring
3. Cylindrical rollers
4. Outer ring
5. Inner ring
6. ZrRS seal ring
7. Pivot
Technical Data - Radial bearings with pivot
| CR rif/ref | C (mm) | B (mm) | D (mm) | L (mm) | F (mm) | H (mm) | E (mm) | C (kN) | Co (kN) | Profilo / Perfil |
| --- | --- | --- | --- | --- | --- | --- | --- | --- | --- | --- |
| * 200-0856 | 25 | 42 | 62 | 23,5 | 20 | 7 | 50 | 39 | 65,2 | 2890 |
| * 200-0363 | 30 | 42 | 62 | 29,5 | 20 | 7 | 50 | 39 | 65,2 | 2890 |
| 200-0360 | 35 | 48 | 70,1 | 33,5 | 23 | 8,2 | 57 | 55,5 | 91,7 | 2867 |
| 900-2102 | 40 | 53 | 78,1 | 32 | 23 | 11 | 61 | 58,4 | 100 | 2810 |
| 200-0448 | 45 | 59 | 88,9 | 41 | 30 | 13 | 68 | 83,8 | 132,3 | 2811 |
| 200-1641 | 55 | 69 | 107,7 | 35 | 31 | 14 | 82 | 94,2 | 160,7 | 3100 |
| 200-1641 / 1 | 60 | 69 | 107,7 | 50,5 | 31 | 14 | 82 | 94,2 | 160,7 | 2862 |
| 200-1642 | 60 | 79 | 123 | 51,5 | 37 | 16,3 | 92 | 128 | 226,8 | 2891 |
| 200-1643 | 60 | 103 | 149 | 54 | 43 | 20 | 116 | 172,3 | 325,9 | 2757 |
THE BEARINGS ARE IN ZRS EXECUTION.
C: Dynamic load - Co: Static load
* 2.0856 and 2.0363 are supplied in "Long life" execution.
Technical Characteristics - Radial bearings with pivot
The radial bearings with pivot keep the same structural features as the combined bearings. In this case there is no axial guide inside the bearing.

For this reason these bearings are used in application fields where it is not necessary to bear differentiated loads
The radial bearings with pivot have the following technical features:
The outer ring is manufactured in 20CrMnTi cementation steel. This kind of steel can guarantee a very high resistance to stress and can assure a strong resistance against shocks. The surface hardness is 60-2 HRC.
The inner ring is manufactured in core hardened 100Cr6. The core hardening guarantees a high resistance to wearing and to fatigue. The hardness is 60-2 HRC.
ZRS seal system, realized by C.R. during the recent years, prevents outer agents, such as dust, wet and mill scale, to enter the inner part of the bearing, and at the same time it prevents the leakage of lubrication grease.
Also the side thrust ring is manufactured in cementation steel.
The central pivot is manufactured in low C20/C45 carbon steel. This kind of material guarantees a good resistance and a perfect welding.