Precision combined bearings
Technical Drawing and Exploded View - Precision combined bearings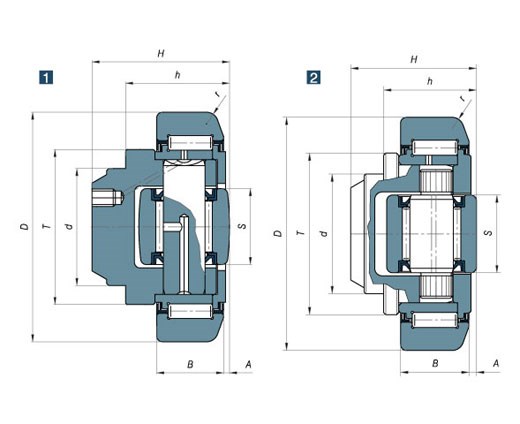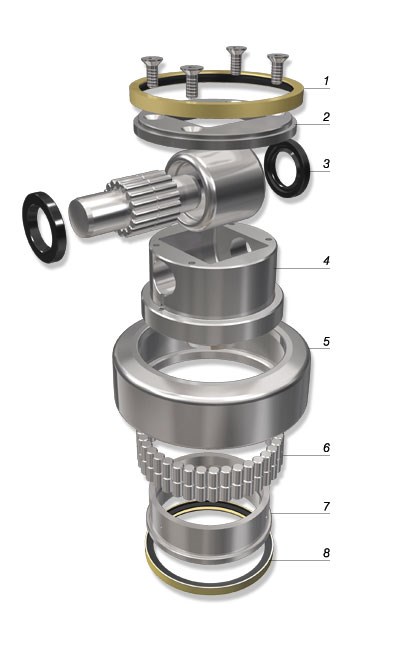 1. ZRS seal ring
2. Support thrust ring
3. Axial part
4. Pivot
5. Outer ring
6. Cylindrical rollers
7. Inner ring
8. ZRS seal ring
Technical Data - Precision combined bearings
| CR rif/ref | d (mm) | T (mm) | D (mm) | H (mm) | hmin / max (mm) | B (mm) | A (mm) | S (mm) | r (mm) | C (kN) | Co (kN) | Ca (kN) | Coa (kN) | Profilo / Perfil | Rif. - Ref. |
| --- | --- | --- | --- | --- | --- | --- | --- | --- | --- | --- | --- | --- | --- | --- | --- |
| DR 400-0054 | 30 | 42 | 64,8 | 37,5 | 30,5 | 20 | 2,5 | 20 | 3 | 39 | 65,2 | 14,4 | 21 | EC 065 L | 1 |
| DR 400-0454 | 30 | 42 | 64,8 | 37,5 | 30,5 - 32 | 20 | 4 | 20 | 3 | 39 | 65,2 | 16 | 25 | EC 065 L | 2 |
| DR 400-0055 | 35 | 48 | 73,8 | 44 | 36 | 23 | 2,5 | 22 | 4 | 55,5 | 91,7 | 17,6 | 25 | EC 074 L | 1 |
| DR 400-0455 | 35 | 48 | 73,8 | 44 | 36 - 37,5 | 23 | 4 | 20 | 4 | 55,5 | 91,7 | 16 | 25 | EC 074 L | 2 |
| * DR 400-0056 | 40 | 54 | 81,8 | 48 | 36,5 | 23 | 3 | 26 | 4 | 58,4 | 100 | 23,2 | 35,8 | EC 082 L | 1 |
| DR 400-0456 | 40 | 54 | 81,8 | 48 | 37 - 38,5 | 23 | 3,5 | 26 | 4 | 58,4 | 100 | 23 | 36 | EC 082 L | 2 |
| * DR 400-0058 | 45 | 59 | 92,8 | 57 | 44 | 30 | 3,5 | 26 | 3 | 83,8 | 132,3 | 27,7 | 42 | EC 093 L | 1 |
| DR 400-0458 | 45 | 59 | 92,8 | 57 | 44 - 45,5 | 30 | 4 | 26 | 4 | 83,8 | 132,3 | 23 | 36 | EC 093 L | 2 |
| * DR 400-0061 | 60 | 71 | 111,8 | 69 | 55 | 31 | 4 | 34 | 5 | 94,2 | 160,7 | 38,6 | 65,2 | EC 112 L | 1 |
| DR 400-0461 | 60 | 69 | 111,8 | 69 | 55 - 57 | 31 | 4 | 30 | 5 | 94,2 | 160,7 | 32 | 50 | EC 112 L | 2 |
| * DR 400-0062 | 60 | 80 | 127,8 | 72,3 | 56 | 37 | 5 | 40 | 5 | 128 | 226,8 | 53 | 92 | EC 128 L | 1 |
| DR 400-0462 | 60 | 80 | 127,8 | 72,3 | 56 - 60 | 37 | 5 | 34 | 5 | 128 | 226,8 | 41 | 72 | EC 128 L | 2 |
| * DR 400-0063 | 60 | 103 | 153,8 | 78,5 | 58,5 | 43 | 5,5 | 50 | 3 | 172,3 | 325,9 | 133,3 | 244 | EC 154 L | 1 |
| DR 400-0463 | 60 | 108 | 153,8 | 78,5 | 58,5 - 62,5 | 45 | 6 | 34 | 3 | 172,3 | 325,9 | 41 | 72 | EC 154 L | 2 |
THE BEARINGS ARE IN ZRS EXECUTION.
C: Dynamic load - Co: Static load
Ca: Dynamic axial load - Coa: Static axial load

* DR400-0056, DR 400-0058, DR 400-0061, DR 400-0062, DR 400-0063 are supplied with lubrication hole.
Technical Characteristics - Precision combined bearings
Precision combined bearings have the same technical characteristics as fixed combined bearings and adjustable combined bearings with eccentric pin.
They are manufactured with a wider diameter than the standard ones, because they are used in machined profiles.

The very precise coupling between profile and bearing represents a very good and economic solution in comparison to linear guides.
These bearings are being used in alternative to the linear guides more often.