Needle bearings with entire borders
Technical Drawing and Exploded View - Needle bearings with entire borders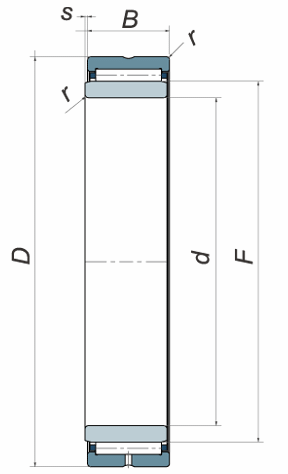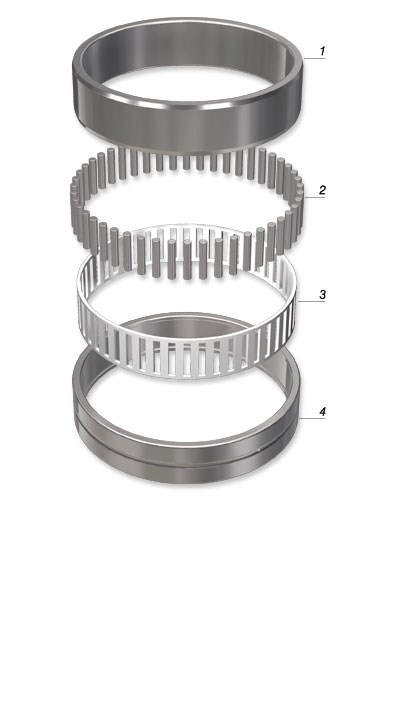 1. Outer ring
2. Needle rollers
3. Cage
4. Inner ring
Technical Data - Needle bearings with entire borders
| C.R. rif / ref | d (mm) | F (mm) | D (mm) | B (mm) | r1 min (mm) | S (mm) | Cw (kN) | Cow (kN) | Vel Max Speed (RPM min-1) |
| --- | --- | --- | --- | --- | --- | --- | --- | --- | --- |
| NA 4822 | 110 | 120 | 140 | 30 | 1 | 0,8 | 106 | 216 | 3.900 |
| NA 4824 | 120 | 130 | 150 | 30 | 1 | 0,8 | 112 | 239 | 3.150 |
| NA 4826 | 130 | 145 | 165 | 35 | 1 | 1 | 134 | 310 | 3300 |
| NA 4828 | 140 | 155 | 175 | 35 | 1 | 1 | 136 | 325 | 3100 |
| NA 4830 | 150 | 165 | 190 | 40 | 1 | 1,5 | 172 | 400 | 2900 |
| NA 4832 | 160 | 175 | 200 | 40 | 1 | 1,5 | 181 | 435 | 2700 |
| NA 4834 | 170 | 185 | 215 | 45 | 1 | 1,5 | 209 | 510 | 2550 |
| NA 4836 | 180 | 195 | 225 | 45 | 1 | 1,5 | 219 | 550 | 2420 |
| NA 4838 | 190 | 210 | 240 | 50 | 2 | 1,5 | 255 | 690 | 2280 |
| NA 4840 | 200 | 220 | 250 | 50 | 2 | 1,5 | 260 | 720 | 2180 |
| NA 4844 | 220 | 240 | 270 | 50 | 2 | 1,5 | 275 | 790 | 2000 |
| NA 4848 | 240 | 265 | 300 | 60 | 2 | 2 | 400 | 1080 | 1810 |
| NA 4852 | 260 | 285 | 320 | 60 | 2 | 2 | 415 | 1160 | 1690 |
| NA 4856 | 280 | 305 | 350 | 69 | 2 | 2,5 | 510 | 1300 | 1560 |
| NA 4860 | 300 | 330 | 380 | 80 | 2 | 2 | 700 | 1770 | 1440 |
| NA 4864 | 320 | 350 | 400 | 80 | 2 | 2 | 710 | 1850 | 1360 |
| NA 4868 | 340 | 370 | 420 | 80 | 2 | 2 | 730 | 1940 | 1290 |
| NA 4872 | 360 | 390 | 440 | 80 | 2 | 2 | 740 | 2020 | 1230 |
| NA 4876 | 380 | 415 | 480 | 100 | 2 | 2 | 1130 | 2900 | 1140 |
Cw: Dynamic load - Cow: Static load
Technical Characteristics - Needle bearings with entire borders
Massive needle bearings with entire borders obtained on the outer ring form a unique body that cannot be disassembled, as the outer ring, the cages and the needle rollers cannot be disassembled.

These bearings have very small dimensions but a great load capacity.
The bearings are available with inner ring or without inner ring.
Needle bearings without inner ring are used in plants whose project foresees a grinded and tempered shaft that acts as rolling raceway.
Needle bearings with entire borders have the following characteristics:
Outer ring and inner ring are manufactured in core-hardened UNI 100Cr6 steel and reach hardness of 60±2 HRC.
The cages are in moulded sheet.
Lubrication is made through one groove and hole on the outer ring.
The inner ring allows an axial shifting.
The bearings can be supplied with RS seals on request.
Needle bearings with inner ring are used when the shaft cannot act as rolling raceway.