Full complement ball bearings for fork lift masts
Technical Drawing and Exploded View - Full complement ball bearings for fork lift masts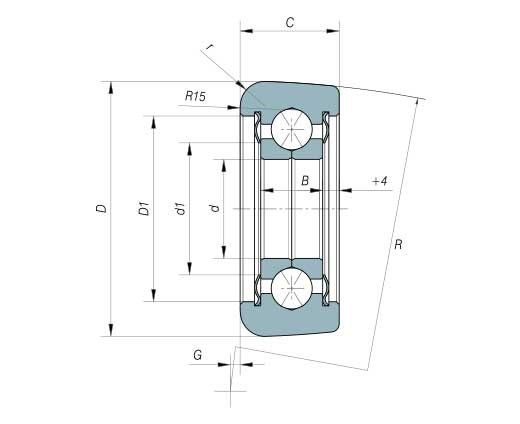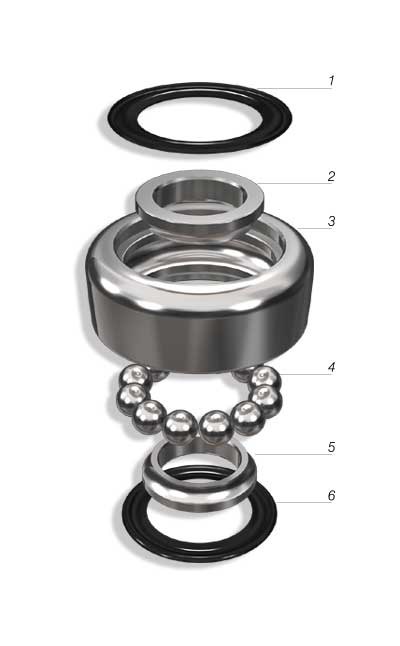 1. Protection cover
2. Inner ring
3. Outer ring
4. Balls
5. Inner ring
6. Protection cover

Technical Data - Full complement ball bearings for fork lift masts
| CR rif / ref | d (mm) | D (mm) | C (mm) | B (mm) | d1 (mm) | D1 (mm) | R (mm) | G (mm) | C (kN) | Co (kN) | Ca (kN) | Coa (kN) |
| --- | --- | --- | --- | --- | --- | --- | --- | --- | --- | --- | --- | --- |
| 900-3596 | 24 | 69,5 | 26 | 15 | 30 | 45 | 250 | 4,25 | 38 | 28 | 32,5 | 24 |
| 900-3377 | 28 | 77,5 | 28 | 18 | 37 | 57 | 250 | 4,85 | 51 | 31,5 | 44 | 29 |
| 900-3568 | 33 | 88,5 | 30 | 20 | 43 | 62,5 | 500 | 4,9 | 66 | 42 | 56 | 37,5 |
| 900-3801 | 40 | 107 | 34 | 23 | 51 | 79 | 500 | 2,35 | 92 | 70 | 75 | 59 |
| 900-3597 | 50 | 122,5 | 38 | 26 | 63 | 93 | 1000 | 21,4 | 119 | 98 | 93 | 77 |
| 900-3598 | 65 | 149 | 44 | 30 | 80 | 115 | 1000 | 17,25 | 178 | 155 | 131 | 111 |

Dynamic load - Co: Static load - Ca: Dynamic axial load - Coa: Static axial load

Technical Characteristics - Full complement ball bearings for fork lift masts
Full complement radial ball bearings, like the previous series, are mainly used in fork lift masts.

They are manufactured with one row of balls with four contact points.

The full complement execution guarantees a very high radial load capacity and a very good axial support.




Full complement ball bearings for fork lift masts have the following characteristics:
The outer ring is manufactured in case hardened UNI 20CrMnTi steel with hardness degree 60-2 HRC.
The inner ring, which is made of two half-rings, is manufactured in total hardening UNI 100Cr6 steel with hardness degree 60±HRC.
The calculation of these bearings is made with restricted radial clearance and sections.