FIXED combined bearings
Technical Drawing and Exploded View - Fixed Combined Bearings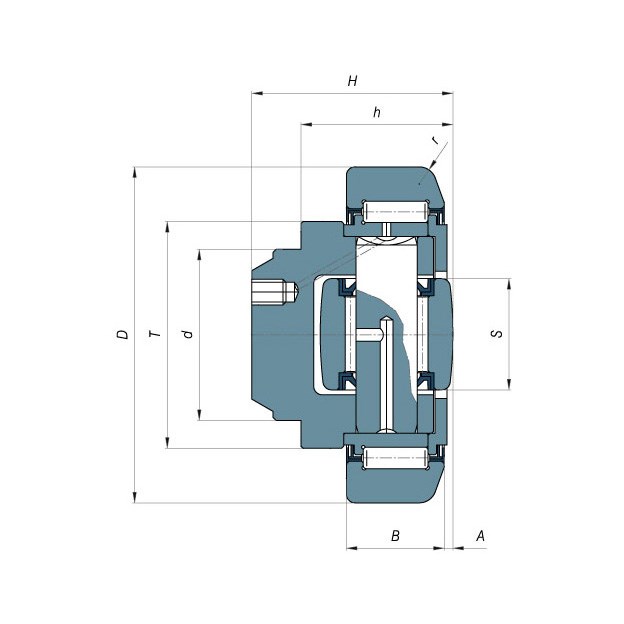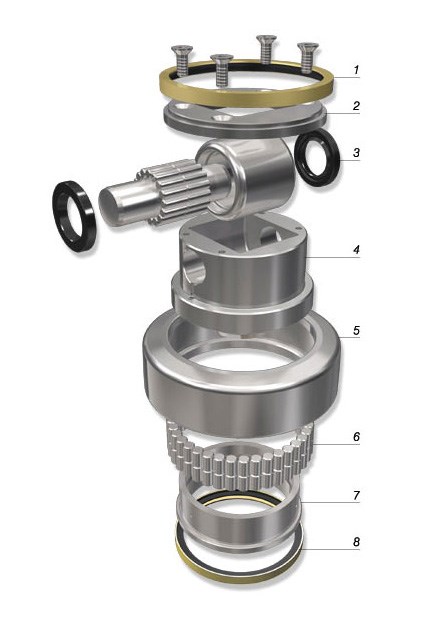 1. ZRS seal ring
2. Support thrust ring
3. Axial part
4. Pivot
5. Outer ring
6. Cylindrical rollers
7. Inner ring
8. ZRS seal ring
Technical Data - Fixed Combined Bearings
| CR rif/ref | d (mm) | T (mm) | D (mm) | H (mm) | h (mm) | B (mm) | A (mm) | S (mm) | r (mm) | C (kN) | Co (kN) | Ca (kN) | Coa (kN) | Ø** (mm) | Profilo Perfil |
| --- | --- | --- | --- | --- | --- | --- | --- | --- | --- | --- | --- | --- | --- | --- | --- |
| 400-0053 | 30 | 40 | 52,5 | 33 | 27 | 17 | 5 | 15 | 2 | 24,8 | 34,5 | 9,2 | 11,7 | * | EC 053 |
| 400-0054 | 30 | 42 | 62 | 37,5 | 30,5 | 20 | 2,5 | 20 | 3 | 39 | 65,2 | 14,4 | 21 | 62,5 | 2890 |
| 400-0055 | 35 | 48 | 70,1 | 44 | 36 | 23 | 2,5 | 22 | 4 | 55,5 | 91,7 | 17,6 | 25 | 70,7 / 70,4 | 2867 |
| 400-0056 | 40 | 53 | 77,7 | 48 | 36,5 | 23 | 3 | 24 | 4 | 58,4 | 100 | 23,2 | 35,8 | 78,1 / 78,5 | 2810 |
| 400-0058 | 45 | 59 | 88,4 | 57 | 44 | 30 | 3,5 | 26 | 3 | 83,8 | 132,3 | 27,7 | 42 | 88,9 | 2811 |
| 400-0061 | 60 | 71 | 107,7 | 69 | 55 | 31 | 4 | 34 | 5 | 94,2 | 160,7 | 38,6 | 65,2 | 108,2/108,5 | 2862 |
| 400-0062 | 60 | 80 | 123 | 72,3 | 56 | 37 | 5 | 40 | 5 | 128 | 226,8 | 53 | 92 | * | 2891 |
| 400-0063 | 60 | 103 | 149 | 78,5 | 58,5 | 45 | 5,5 | 50 | 3 | 172,3 | 325,9 | 133,3 | 244 | * | 2757 |
| 400-0011 | 60 | 103 | 149 | 86 | 67 | 45 | 5,5 | 50 | 3 | 172,3 | 325,9 | 133,3 | 244 | * | 2757 |
| 400-0037 | 80 | 120 | 174 | 95 | 71 | 55 | 7 | 63 | 7 | 265 | 488 | 205,3 | 381 | * | * |
| 400-0039 | 80 | 120 | 185 | 95 | 71 | 55 | 7 | 63 | 7 | 265 | 488 | 205,3 | 381 | * | * |
THE BEARINGS ARE IN ZRS EXECUTION
400-0053 AND 400-0054 ARE SUPPLIED WITHOUT LUBRICATION HOLEC: Dynamic load - Co: Static load
C: Dynamic load - Co: Static load
Ca: Dynamic axial load - Coa: Static axial load

Technical Characteristics - Fixed Combined Bearings
Fixed combined bearings are particularly suitable to be used in forklift masts and in any other moving and handling system, where rolled or extruded profiles are used.

The best combination axial part/radial part allows to get high load capacity with extremely small dimensions of the bearing, in addition to easiness of assembling on any kind of structure.
Fixed combined bearings have the following technical characteristics:
Outer ring and axial little roll are manufactured in case-hardening steel type 20CrMnTi.
This kind of steel guarantees a very good resistance to stress, and assures a very good resistance against crashes. The surface hardness can reach 60-2 HRC for both of them.
Inner ring and pin are manufactured in core-hardened 100 Cr6 steel. The total-hardening steel guarantees high resistance to wear and stress; both of them reach 60-2 HRC hardness value.
ZRS seal system, realized by C.R. during the recent years, prevents outer agents, such as dust, wet and mill scale, to enter the inner part of the bearing, and at the same time it prevents the leakage of lubrication grease.
The lateral thrust cover is made in case-hardening steel as well.
The central pivot is made in low carbon C20/C45 steel, which guarantees high resistance and is highly suitable for welding.