Combined bearings for high speed
Technical Drawing and Exploded View - Combined bearings for high speed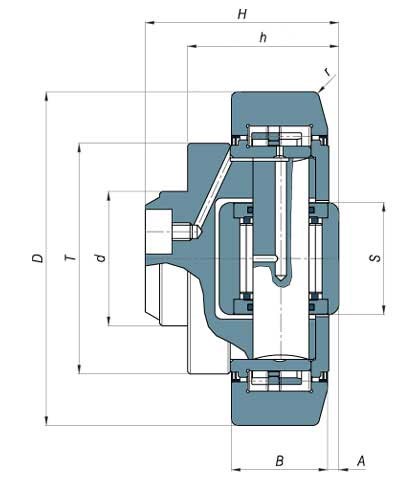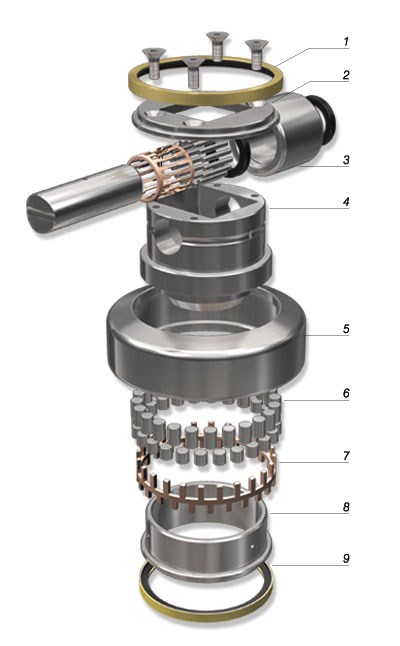 1. ZRS seal ring
2. Support thrust ring
3. Axial part
4. Pivot
5. Outer ring
6. Cylindrical rollers
7. Cage
8. Inner ring
9. ZRSs seal ring
Technical Data - Combined bearings for high speed
| CR rif/ref | d (mm) | T (mm) | D (mm) | H (mm) | h (mm) | B (mm) | A (mm) | S (mm) | r (mm) | C (kN) | Co (kN) | Ca (kN) | Coa (kN) |
| --- | --- | --- | --- | --- | --- | --- | --- | --- | --- | --- | --- | --- | --- |
| 400-0235 | 45 | 59 | 88,9 | 57 | 44 | 30 | 3,5 | 26 | 3 | 46,6 | 50 | 26 | 32,2 |
| 400-0227 | 60 | 71 | 107,7 | 69 | 55 | 31 | 4 | 34 | 5 | 76 | 90 | 30 | 32 |
| 400-0228 | 60 | 80 | 123 | 72,3 | 56 | 37 | 5 | 40 | 5 | 106 | 120 | 42 | 46 |
| 400-0229 | 60 | 108 | 149 | 86 | 67 | 45 | 5 | 50 | 3 | 129 | 180 | 62 | 70 |
| 400-0230 | 80 | 120 | 185 | 90,5 | 76 | 55 | 7 | 65 | 7,5 | 170 | 250 | 80 | 104 |
THE BEARINGS ARE IN ZRS EXECUTION.
C: Dynamic load - Co: Static load
Ca: Dynamic axial load - Coa: Static axial load
The bearings are supplied with lubrication hole.

Technical Characteristics - Combined bearings for high speed
Combined bearings for high speed maintain the same technical characteristics as fixed combined bearings.

They are provided with bronze cages both in the radial and in the axial part, therefore they can rotate at a high number of revolutions.

They are provided also with Viton seals, so that they can bear heavy working conditions and high temperatures.

Combined bearings for high speed have the following technical characteristics:
Outer ring and little axial roll are manufactured in case-hardening steel type 20CrMnTi. This kind of steel guarantees a very good resistance to stress, and assures a very good resistance against crashes. The surface hardness can reach 60-2 HRC for both of them.
Inner ring and pin are manufactured in core-hardened 100 Cr6 steel. The total-hardening steel guarantees high resistance to wear and stress; both of them reach 60-2 HRC hardness value.
The seals in the radial part are in ZRS execution or ZZ execution whereas the seals in the axial part are in Viton. This is made in order to guarantee the protective device to the bearing also during its working at high temperature.
The lateral thrust cover is made in case-hardening steel as well.
The central pivot is made in low carbon C20/C45 steel, which guarantees high resistance and is highly suitable for welding.
The cages inside radial and axial part are manufactured in bronze. Radial clearances may vary from CN to C3.