Chain pulleys
Technical Drawing and Exploded View - Chain pulleys
1 - Cylindrical roller execution
2 - Ball execution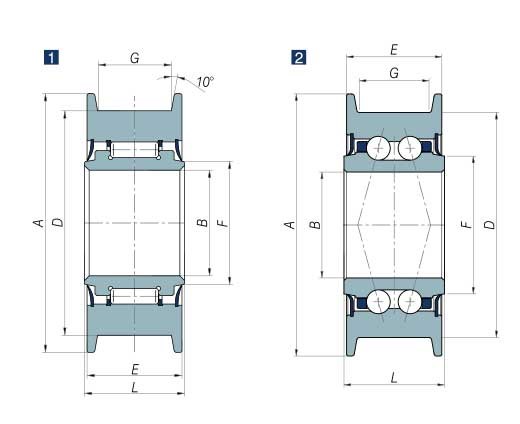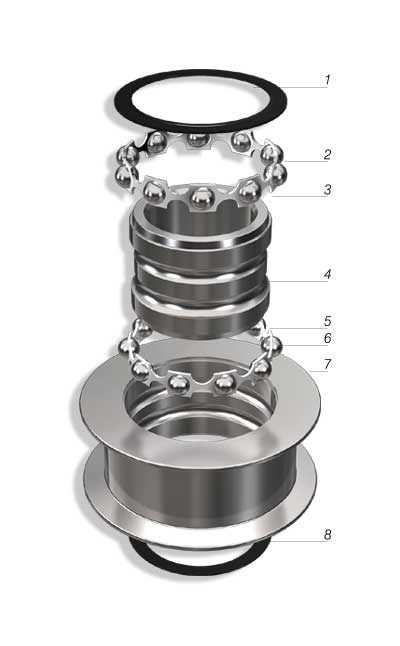 1. RS seal ring

2. Balls
3. Cage
4. Inner ring
5. Cage
6. Balls
7. Outer ring
8. RS seal ring
Technical Data - Chain pulleys
1 - Cylindrical roller execution
| CR rif / ref | B (mm) | D (mm) | L (mm) | E (mm) | G (mm) | A (mm) | F (mm) | C (kN) | Co (kN) | CATENA / CHAIN |
| --- | --- | --- | --- | --- | --- | --- | --- | --- | --- | --- |
| 200-0247 / 2 | 40 | 70 | 26,5 | 25 | 19 | 78 | 50 | 44 | 46 | BL 534 - AL 544 - LL 1044 |
| 200-1644 / 2 | 40 | 80 | 28 | 26 | 19 | 90 | 50 | 50 | 54 | BL 534 - AL 544 - LL 1244 |
| 200-0252 | 40 | 80 | 43 | 41 | 33 | 98 | 50 | 81 | 87 | BL 634 - AL 666 - LL 1288 |
| 200-1080 / 2 | 40 | 85 | 38 | 36 | 28 | 98 | 50 | 64 | 70 | BL 634 - AL 644 - LL 1266 |
| 200-0241 / 2 | 50 | 100 | 42 | 40 | 33 | 112 | 60 | 89 | 162 | BL 834 - AL 844 - LL 1644 |
| 200-1190 | 55 | 110 | 58 | 56 | 45 | 135 | 65 | 135 | 146 | BL 846 - AL 866 - LL 1666 |
| 200-1191 | 55 | 130 | 67 | 65 | 55 | 158 | 65 | 200 | 218 | BL 1046 - AL 1066 - LL 2066 |
2 - Ball execution
| CR rif / ref | B (mm) | D (mm) | L (mm) | E (mm) | G (mm) | A (mm) | F (mm) | C (kN) | Co (kN) | CATENA / CHAIN |
| --- | --- | --- | --- | --- | --- | --- | --- | --- | --- | --- |
| 900-3481 | 40 | 70 | 26,5 | 25 | 19 | 78 | 50 | 25 | 32 | BL 534 - AL 544 - LL 1044 |
| 900-3822 | 40 | 80 | 28 | 26 | 19 | 90 | 50 | 25 | 32 | BL 534 - AL 544 - LL 1244 |
| 900-3823 | 40 | 80 | 43 | 41 | 33 | 98 | 50 | 37 | 45 | BL 634 - AL 666 - LL 1288 |
| 900-2975 | 40 | 85 | 38 | 36 | 28 | 98 | 50 | 37 | 45 | BL 634 - AL 644 - LL 1266 |
| 900-3283 | 50 | 100 | 42 | 40 | 33 | 112 | 60 | 52,8 | 58,5 | BL 834 - AL 844 - LL 1644 |
| 900-3468 | 55 | 110 | 58 | 56 | 45 | 135 | 65 | 57,2 | 67 | BL 846 - AL 866 - LL 1666 |
| 900-3376 | 55 | 130 | 67 | 65 | 55 | 158 | 65 | 72,1 | 85 | BL 1046 - AL 1066 - LL 2066 |
C: Dynamic load - Co: Static load
Technical Characteristics - Chain pulleys
C.R. chain pulleys are suitable to gear Fleyer chains.
They are used as lifting parts in fork lifts masts.
They are supplied pre-lubricated and with seals.


Chain pulleys have the following features:
The outer ring is made of 20CrMnTi cementation steel with surface hardness 60-2 HRC.
The inner ring is made of 100Cr6 total hardened steel with hardness 60+2 HRC.