Ball joint
Technical Drawing and Exploded View - Ball joint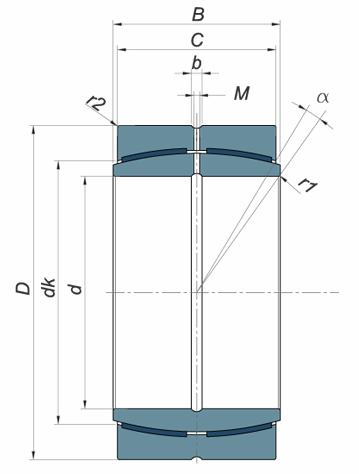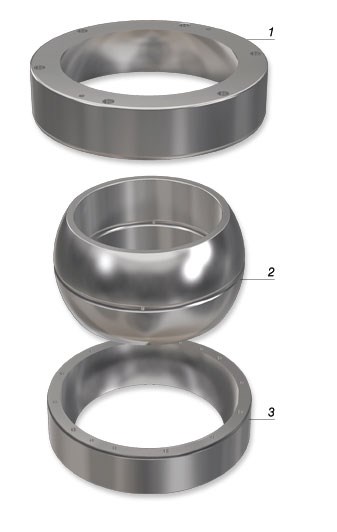 1. Outer ring
2. Inner ring
3. Outer ring
Technical Data - Ball joint
| CR rif/ref | Esec. | d (mm) | D (mm) | B (mm) | C (mm) | a (mm) | d1 (mm) | b (mm) | M (mm) | r1 min (mm) | r2 min (mm) | C (kN) | Co (kNN) |
| --- | --- | --- | --- | --- | --- | --- | --- | --- | --- | --- | --- | --- | --- |
| GE 100 FS | 1 | 100 | 150 | 70 | 55 | 7 | 130 | 11,3 | 5 | 1 | 1 | 610 | 3050 |
| GE 110 FS | 1 | 110 | 160 | 70 | 55 | 6 | 140 | 11,5 | 5 | 1 | 1 | 655 | 3250 |
| GE 120 FS | 1 | 120 | 180 | 85 | 70 | 6 | 160 | 13,5 | 6 | 1 | 1 | 950 | 4750 |
| GE 140 FS | 1 | 140 | 210 | 90 | 70 | 7 | 180 | 13,5 | 6 | 1 | 1 | 1080 | 5400 |
| GE 160 FS | 1 | 160 | 230 | 105 | 80 | 8 | 200 | 13,5 | 6 | 1 | 1 | 1370 | 6800 |
| GE 180 FS | 1 | 180 | 260 | 105 | 80 | 6 | 225 | 13,5 | 6 | 1,1 | 1,1 | 1.530 | 7650 |
| GE 200 FS | 1 | 200 | 290 | 130 | 100 | 7 | 250 | 15,5 | 7 | 1,1 | 1,1 | 2.120 | 10600 |
| GE 220 FS | 1 | 220 | 320 | 135 | 100 | 8 | 275 | 15,5 | 7 | 1,1 | 1,1 | 2.320 | 11600 |
| GE 240 FS | 1 | 240 | 340 | 140 | 100 | 8 | 300 | 15,5 | 7 | 1,1 | 1,1 | 2.550 | 12700 |
| GE 260 FS | 1 | 260 | 370 | 150 | 110 | 7 | 325 | 15,5 | 7 | 1,1 | 1,1 | 3.050 | 15300 |
| GE 280 FS | 1 | 280 | 400 | 155 | 120 | 6 | 350 | 15,5 | 7 | 1,1 | 1,1 | 3.550 | 18000 |
| GE 300 FS | 1 | 300 | 430 | 165 | 120 | 7 | 375 | 15,5 | 7 | 1,1 | 1,1 | 3.800 | 19000 |
| GEP 100 FS | 2 | 100 | 150 | 71 | 67 | 2 | 135 | 7,4 | 4 | 1 | 1 | 600 | 900 |
| GEP 110 FS | 2 | 110 | 160 | 78 | 74 | 2 | 145 | 7,5 | 4 | 1 | 1 | 720 | 1080 |
| GEP 120 FS | 2 | 120 | 180 | 85 | 80 | 2 | 160 | 7,5 | 4 | 1 | 1 | 850 | 1270 |
| GEP 140 FS | 2 | 140 | 210 | 100 | 95 | 2 | 185 | 7,5 | 4 | 1 | 1 | 1.200 | 1800 |
| GEP 160 FS | 2 | 160 | 230 | 115 | 109 | 2 | 210 | 7,5 | 4 | 1 | 1 | 1.600 | 2400 |
| GEP 180 FS | 2 | 180 | 260 | 128 | 122 | 2 | 240 | 7,5 | 4 | 1,1 | 1,1 | 2.080 | 3100 |
| GEP 200 FS | 2 | 200 | 290 | 140 | 134 | 2 | 260 | 11,5 | 5 | 1,1 | 1,1 | 2.450 | 3650 |
| GEP 220 FS | 2 | 220 | 320 | 155 | 148 | 2 | 290 | 13,5 | 6 | 1,1 | 1,1 | 3.050 | 4550 |
| GEP 240 FS | 2 | 240 | 340 | 170 | 162 | 2 | 310 | 13,5 | 6 | 1,1 | 1,1 | 3.550 | 5400 |
| GEP 260 FS | 2 | 260 | 370 | 185 | 175 | 2 | 340 | 15,5 | 7 | 1,1 | 1,1 | 4.250 | 6400 |
| GEP 280 FS | 2 | 280 | 400 | 200 | 190 | 2 | 370 | 15,5 | 7 | 1,1 | 1,1 | 5.000 | 7500 |
| GEP 300 FS | 2 | 300 | 430 | 212 | 200 | 2 | 110 | 15,5 | 7 | 1,1 | 1,1 | 5.600 | 8300 |
C: Dynamic load - Co: Static load
1) Steel-to-steel ball joints
2) Maintenance-free ball joints
Technical Characteristics - Ball joint
Ball joints are made of one inner ring with spherical and convex surface, which matches with the concavity of the inner surface of the outer ring.

They are particularly used in case it is necessary to align the shaft to the housing, with low shearing speeds.

C.R. ball joints have different surface materials and can be divided into two groups:

1 - Steel-to-steel ball joints (thanks to the high resistance of the working surface, they are particularly suitable for application with alternating loads).

2 - Maintenance-free ball joints (they are generally used in working condition with high loads with constant direction, and when the lubrication system is not adequate and therefore the use of steel-to-steel ball joints is not recommended).
C.R. ball joints have the following technical characteristics:
Steel-to-steel ball joints are manufactured in hardened and phosphatized UNI 100 Cr6/100CrMo7 steel.
Contact surfaces undergo an additional special treatment, to make them completely resistant to wear.
They cannot be disassembled and they have a groove and a hole on both rings to favour the lubrication.
Ball joints with 2RS execution have double lip sliding seals on both sides.
Maintenance-free ball joints have the outer ring covered with a layer of special plastic material, stiffened with glass fibre, absolutely resistant to wear.
The outer ring is divided into two parts, which are perpendicular to the axis.
The inner ring is manufactured in UNI 100Cr6/100CrMo7.
Even though the ball joints are maintenance-free, it is possible to make an anti-corrosion lubrication.
C.R. ball joints are provided with groove and holes on both rings, to favour lubrication.