Axial cylinder roller bearing
Technical Drawing and Exploded View - Axial cylinder roller bearing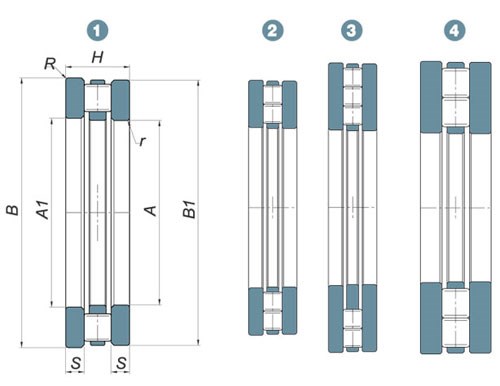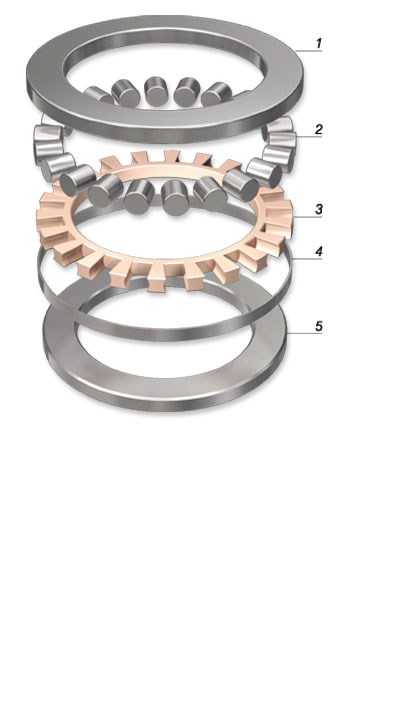 1. Ws support thrust ring
2. Cylindrical rollers
3. Cage
4. Locking little ring
5. Gs support thrust ring
Technical Data - Axial cylinder roller bearing
| CR rif/ref | Serie / Series | A (mm) | B (mm) | H (mm) | S (mm) | R (mm) | r (mm) | A1 (mm) | B1 (mm) | C (kN) | Co (kN) | Vel Max Speed (RPM min-1) | Esec. |
| --- | --- | --- | --- | --- | --- | --- | --- | --- | --- | --- | --- | --- | --- |
| M300-0020 | 81120 | 100 | 135 | 25 | 7 | 1 | 1 | 102 | 135 | 199 | 650 | 1.900 | 1 |
| M300-0120 | 81220 | 100 | 150 | 38 | 11,5 | 1,1 | 1,1 | 103 | 150 | 340 | 1080 | 900 | 1 |
| M300-0220 | 89320 | 100 | 170 | 42 | 14,5 | 1,5 | 1,5 | 103 | 170 | 380 | 1400 | 750 | 2 |
| M300-0320 | 87420 | 100 | 210 | 50 | 17,5 | 3 | 3 | 103 | 210 | 590 | 1250 | 550 | 3 |
| 89420 | 89420 | 100 | 210 | 67 | 22,5 | 3 | 3 | 103 | 210 | 850 | 2850 | 550 | 4 |
| M300-0022 | 81122 | 110 | 145 | 25 | 7 | 1 | 1 | 112 | 145 | 207 | 700 | 2.300 | 1 |
| M300-0122 | 81222 | 110 | 160 | 38 | 11,5 | 1,1 | 1 | 113 | 160 | 325 | 1030 | 2.100 | 1 |
| M300-0222 | 89322 | 110 | 190 | 48 | 16,5 | 2 | 2 | 113 | 190 | 500 | 1870 | 1.900 | 2 |
| M300-0322 | 87422 | 110 | 230 | 54 | 18,5 | 3 | 3 | 113 | 230 | 710 | 1490 | 1.700 | 3 |
| 89422 | 89422 | 110 | 230 | 73 | 24,5 | 3 | 3 | 113 | 230 | 1000 | 3400 | 1.700 | 4 |
| M300-0024 | 81124 | 120 | 155 | 25 | 7 | 1 | 1 | 122 | 155 | 214 | 760 | 2.100 | 1 |
| M300-0124 | 81224 | 120 | 170 | 39 | 12 | 1,1 | 1,1 | 123 | 170 | 340 | 1120 | 2.000 | 1 |
| M300-0224 | 89324 | 120 | 210 | 54 | 18,5 | 2,1 | 2,1 | 123 | 210 | 640 | 2420 | 1.700 | 2 |
| M300-0324 | 87424 | 120 | 250 | 58 | 20 | 4 | 4 | 123 | 250 | 1010 | 1790 | 1.600 | 3 |
| 89424 | 89424 | 120 | 250 | 78 | 26 | 4 | 4 | 123 | 250 | 1160 | 4000 | 1.600 | 4 |
| M300-0026 | 81126 | 130 | 170 | 30 | 9 | 1 | 1 | 132 | 170 | 250 | 900 | 1.900 | 1 |
| M300-0126 | 81226 | 130 | 190 | 45 | 13 | 1,5 | 1,5 | 133 | 190 | 480 | 1520 | 1.800 | 1 |
| M300-0226 | 89326 | 130 | 225 | 58 | 20 | 2,1 | 2,1 | 134 | 225 | 710 | 2700 | 1.600 | 2 |
| M300-0326 | 87426 | 130 | 270 | 63 | 22 | 4 | 4 | 134 | 270 | 920 | 2040 | 1.400 | 3 |
| 89426 | 89426 | 130 | 270 | 85 | 28,5 | 4 | 4 | 134 | 270 | 1130 | 4600 | 1.400 | 4 |
| M300-0028 | 81128 | 140 | 180 | 31 | 9,5 | 1 | 1 | 142 | 180 | 260 | 960 | 1.800 | 1 |
| M300-0128 | 81228 | 140 | 200 | 46 | 13,5 | 1,5 | 1,5 | 143 | 200 | 455 | 1450 | 1.700 | 1 |
| M300-0228 | 89328 | 140 | 240 | 60 | 20,5 | 2,1 | 2,1 | 144 | 240 | 820 | 3200 | 1.500 | 2 |
| M300-0328 | 87428 | 140 | 280 | 63 | 22 | 4 | 4 | 144 | 280 | 970 | 2200 | 1.400 | 3 |
| 89428 | 89428 | 140 | 280 | 85 | 28,5 | 4 | 4 | 144 | 280 | 1380 | 4950 | 1.400 | 4 |
| M300-0030 | 81130 | 150 | 190 | 31 | 9,5 | 1 | 1 | 152 | 190 | 270 | 1020 | 1.700 | 1 |
| M300-0130 | 81230 | 150 | 215 | 50 | 14,5 | 1,5 | 1 | 153 | 215 | 590 | 1940 | 1.600 | 1 |
| M300-0230 | 89330 | 150 | 250 | 60 | 20,5 | 2,1 | 2,1 | 154 | 250 | 840 | 3350 | 1.400 | 2 |
| M300-0330 | 87430 | 150 | 300 | 67 | 23 | 4 | 4 | 154 | 300 | 1100 | 2470 | 1.300 | 3 |
| 89430 | 89430 | 150 | 300 | 90 | 30 | 4 | 4 | 154 | 300 | 1570 | 5700 | 1.300 | 4 |
| M300-0032 | 81132 | 160 | 200 | 31 | 9,5 | 1 | 1 | 162 | 200 | 260 | 990 | 1.600 | 1 |
| M300-0132 | 81232 | 160 | 225 | 51 | 15 | 1,5 | 1,5 | 163 | 225 | 600 | 2030 | 1.500 | 1 |
| M300-0232 | 89332 | 160 | 270 | 67 | 23 | 3 | 3 | 164 | 270 | 850 | 1730 | 1.300 | 2 |
| M300-0332 | 87432 | 160 | 320 | 73 | 25,5 | 5 | 5 | 164 | 320 | 1270 | 2950 | 1.200 | 3 |
| 89432 | 89432 | 160 | 320 | 95 | 31,5 | 5 | 5 | 164 | 320 | 1780 | 6500 | 1.200 | 4 |
| M300-0034 | 81134 | 170 | 215 | 34 | 10 | 1,1 | 1,1 | 172 | 215 | 360 | 1380 | 1.500 | 1 |
| M300-0134 | 81234 | 170 | 240 | 55 | 16,5 | 1,5 | 1,5 | 173 | 240 | 680 | 2340 | 1.400 | 1 |
| M300-0234 | 89334 | 170 | 280 | 67 | 23 | 3 | 3 | 174 | 280 | 870 | 1810 | 1.300 | 2 |
| M300-0334 | 87434 | 170 | 340 | 78 | 27 | 5 | 5 | 174 | 340 | 1410 | 3250 | 1.100 | 3 |
| 89434 | 89434 | 170 | 340 | 103 | 34,5 | 5 | 5 | 174 | 340 | 1990 | 7400 | 1.100 | 4 |
| M300-0036 | 81136 | 180 | 225 | 34 | 10 | 1,1 | 1,1 | 183 | 225 | 340 | 1300 | 1.400 | 1 |
| M300-0136 | 81236 | 180 | 250 | 56 | 17 | 1,5 | 1,5 | 183 | 250 | 690 | 2440 | 1.300 | 1 |
| M300-0236 | 89336 | 180 | 300 | 73 | 24,5 | 3 | 3 | 184 | 300 | 1100 | 2270 | 1.200 | 2 |
| M300-0336 | 87436 | 180 | 360 | 82 | 28,5 | 5 | 5 | 184 | 360 | 1620 | 3850 | 1.100 | 3 |
| 89436 | 89436 | 180 | 360 | 109 | 36,5 | 5 | 5 | 184 | 360 | 2210 | 8200 | 1.100 | 4 |
| M300-0038 | 81138 | 190 | 240 | 37 | 11 | 1,1 | 1,1 | 193 | 240 | 385 | 1500 | 1.300 | 1 |
| M300-0138 | 81238 | 190 | 270 | 62 | 18 | 2 | 1 | 194 | 270 | 880 | 3000 | 1.300 | 1 |
| M300-0238 | 89338 | 190 | 320 | 78 | 26 | 4 | 4 | 195 | 320 | 1230 | 2550 | 1.100 | 2 |
| M300-0338 | 87438 | 190 | 380 | 85 | 29,5 | 5 | 5 | 195 | 380 | 1730 | 4150 | 1.000 | 3 |
| 89438 | 89438 | 190 | 380 | 115 | 38,5 | 5 | 5 | 195 | 380 | 2450 | 9200 | 1.000 | 4 |
| M300-0040 | 81140 | 200 | 250 | 37 | 11 | 1,1 | 1,1 | 203 | 250 | 390 | 1550 | 1.300 | 1 |
| M300-0140 | 81240 | 200 | 280 | 62 | 18 | 2 | 2 | 204 | 280 | 900 | 3150 | 1.200 | 1 |
| M300-0240 | 89340 | 200 | 340 | 85 | 28,5 | 4 | 4 | 205 | 340 | 1420 | 2950 | 1.100 | 2 |
| M300-0340 | 87440 | 200 | 400 | 90 | 31 | 5 | 5 | 205 | 400 | 1990 | 4800 | 950 | 3 |
| 89440 | 89440 | 200 | 400 | 122 | 41 | 5 | 5 | 205 | 400 | 2700 | 10200 | 950 | 4 |
| M300-0044 | 81144 | 220 | 270 | 37 | 11 | 1,1 | 1,1 | 223 | 270 | 420 | 1730 | 1.200 | 1 |
| M300-0144 | 81244 | 220 | 300 | 63 | 18,5 | 2 | 2 | 224 | 300 | 940 | 3450 | 1.100 | 1 |
| M300-0344 | 89444 | 220 | 420 | 122 | 41 | 6 | 6 | 225 | 420 | 2900 | 11500 | 900 | 4 |
| M300-0048 | 81148 | 240 | 300 | 45 | 13,5 | 1,5 | 1,5 | 243 | 300 | 600 | 2500 | 1.100 | 1 |
| M300-0148 | 81248 | 240 | 340 | 78 | 23 | 2,1 | 2,1 | 244 | 340 | 1370 | 5000 | 1.000 | 1 |
| M300-0348 | 89448 | 240 | 440 | 122 | 41 | 6 | 6 | 245 | 440 | 3000 | 12200 | 850 | 4 |
| M300-0052 | 81152 | 260 | 320 | 45 | 13,5 | 1,5 | 1,5 | 263 | 320 | 620 | 2650 | 1.000 | 1 |
| M300-0152 | 81252 | 260 | 360 | 79 | 23,5 | 2,1 | 2,1 | 264 | 360 | 1440 | 5400 | 950 | 1 |
| M300-0352 | 89452 | 260 | 480 | 132 | 44 | 6 | 6 | 265 | 480 | 3600 | 14700 | 800 | 4 |
| M300-0056 | 81156 | 280 | 350 | 53 | 15,5 | 1,5 | 1,5 | 283 | 350 | 860 | 3650 | 900 | 1 |
| M300-0156 | 81256 | 280 | 380 | 80 | 24 | 2,1 | 2,1 | 284 | 380 | 1460 | 5600 | 850 | 1 |
| M300-0356 | 89456 | 280 | 520 | 145 | 48,5 | 6 | 1 | 285 | 520 | 4200 | 17600 | 700 | 4 |
| M300-0060 | 81160 | 300 | 380 | 62 | 18,5 | 2 | 2 | 304 | 380 | 1060 | 4500 | 850 | 1 |
| M300-0160 | 81260 | 300 | 420 | 95 | 28,5 | 3 | 3 | 304 | 420 | 1930 | 7300 | 800 | 1 |
| M300-0360 | 89460 | 300 | 540 | 145 | 48,5 | 6 | 6 | 305 | 540 | 4350 | 18500 | 700 | 4 |
| M300-0064 | 81164 | 320 | 400 | 63 | 19 | 2 | 2 | 324 | 400 | 1100 | 4750 | 800 | 1 |
| M300-0164 | 81264 | 320 | 440 | 95 | 28,5 | 3 | 3 | 325 | 440 | 1960 | 7600 | 750 | 1 |
| M300-0068 | 81168 | 340 | 420 | 64 | 19,5 | 2 | 2 | 344 | 420 | 1130 | 5000 | 750 | 1 |
| M300-0168 | 81268 | 340 | 460 | 96 | 29 | 3 | 3 | 345 | 460 | 2060 | 8300 | 700 | 1 |
| M300-0072 | 81172 | 360 | 440 | 65 | 20 | 2 | 2 | 364 | 440 | 1140 | 5100 | 700 | 1 |
| M300-0172 | 81272 | 360 | 500 | 110 | 32,5 | 4 | 4 | 365 | 500 | 2700 | 10600 | 650 | 1 |
| M300-0076 | 81176 | 380 | 460 | 65 | 20 | 2 | 2 | 384 | 460 | 1170 | 5400 | 700 | 1 |
| M300-0176 | 81276 | 380 | 520 | 112 | 33,5 | 4 | 4 | 385 | 520 | 2750 | 11000 | 650 | 1 |
| M300-0080 | 81180 | 400 | 480 | 65 | 20 | 2 | 2 | 404 | 480 | 1.200 | 5.700 | 650 | 1 |
| M300-0180 | 81280 | 400 | 540 | 112 | 33,5 | 4 | 4 | 405 | 540 | 2.800 | 11.400 | 600 | 1 |
| M300-0084 | 81184 | 420 | 500 | 65 | 20 | 2 | 2 | 424 | 500 | 1.230 | 5.900 | 650 | 1 |
| M300-0184 | 81284 | 420 | 580 | 130 | 39 | 5 | 5 | 425 | 580 | 3.500 | 14.200 | 600 | 1 |
| M300-0088 | 81188 | 440 | 540 | 80 | 24 | 2,1 | 2,1 | 444 | 540 | 1.780 | 8.200 | 600 | 1 |
| M300-0188 | 81288 | 440 | 600 | 130 | 39 | 5 | 5 | 445 | 600 | 3.600 | 14.800 | 550 | 1 |
| M300-0092 | 81192 | 460 | 560 | 80 | 24 | 2,1 | 1 | 464 | 560 | 1.840 | 8.700 | 550 | 1 |
| M300-0192 | 81292 | 460 | 620 | 130 | 39 | 5 | 5 | 465 | 620 | 3.650 | 15.400 | 550 | 1 |
| M300-0096 | 81196 | 480 | 580 | 80 | 24 | 2,1 | 2,1 | 484 | 580 | 1.860 | 8.900 | 550 | 1 |
| M300-0196 | 81296 | 480 | 650 | 135 | 39,5 | 5 | 5 | 485 | 650 | 4.100 | 17.000 | 500 | 1 |
| M300-0400 | 811 / 500 | 500 | 600 | 80 | 24 | 2,1 | 2,1 | 505 | 600 | 1.910 | 9.300 | 500 | 1 |
| 812 / 500 | 812 / 500 | 500 | 670 | 135 | 39,5 | 5 | 5 | 505 | 670 | 4.150 | 17.600 | 490 | 1 |
| 811 / 530 | 811 / 530 | 530 | 640 | 85 | 25,5 | 3 | 3 | 535 | 640 | 2.140 | 10.500 | 490 | 1 |
| 812 / 530 | 812 / 530 | 530 | 710 | 140 | 40 | 5 | 5 | 535 | 710 | 4.750 | 20.300 | 460 | 1 |
| 811 / 560 | 811 / 560 | 560 | 670 | 85 | 25,5 | 3 | 3 | 565 | 670 | 2.190 | 11.000 | 470 | 1 |
| 811 / 560 | 811 / 560 | 560 | 750 | 150 | 45 | 5 | 5 | 565 | 750 | 4.850 | 21.100 | 440 | 1 |
| 811 / 600 | 811 / 600 | 600 | 710 | 85 | 25,5 | 3 | 3 | 605 | 710 | 2.230 | 11.500 | 440 | 1 |
| 812 / 600 | 812 / 600 | 600 | 800 | 160 | 48 | 5 | 5 | 605 | 800 | 5.500 | 24.000 | 410 | 1 |
Cw: Dynamic load - Cow: Static load
Technical Characteristics - Axial cylinder roller bearing
Axial cylindrical roller bearings are made up of one cylindrical roller axial cage, one support thrust ring per GS housing and one thrust ring per WS shaft. The bearings of series 811 and 812 are used when very high loads must be born. The bearings of series 874, 893 and 894 are used when even higher loads must be born. Cylindrical roller axial cages have massive structure and have seats like the spokes of a wheel, in which the cylindrical rollers are guided and held. All axial cylindrical roller cages can be combined with the thrust rings for GS housing and with the thrust rings for WS shaft.
Thanks to the stiffness of the cages, the rolling elements are held and guided with high precision. In the cases in which the surfaces adjacent to the cages have suitable rolling raceways, small sized supports can be obtained. On the contrary, the various C.R. thrust rings for axial bearings allow to fulfil other support possibilities which adapt to the surrounding structure. Even though the rotation of the cylindrical bodies on a flat circular raceway generates a rolling/dragging effect, these axial bearings allow favourable friction coefficients, which can be compared to those of other types of rolling bearings.
Axial cylindrical roller bearings have the following characteristics:


GS and WS support thrust rings are made in UNI 100Cr6/100CrMo7 steel. They can be supplied in case-hardened 18 NiCrMo5 steel. They reach hardness 60 +2 HRC.
The massive axial cages are usually supplied in bronze, which guarantees high sturdiness and high toughness, and maintains good elasticity. They can be executed in light alloy on request.
The bearings are manufactured in standard precision class; on request they can be supplied with precision class P5/P6.