Adjustable combined bearings for heavy industry
Technical Drawing and Exploded View - Adjustable combined bearings for heavy industry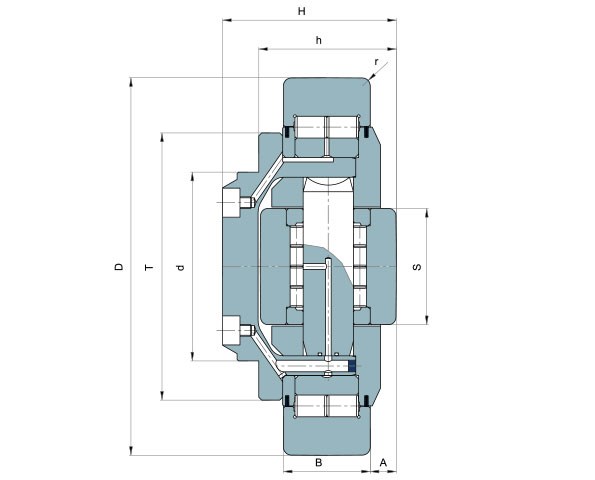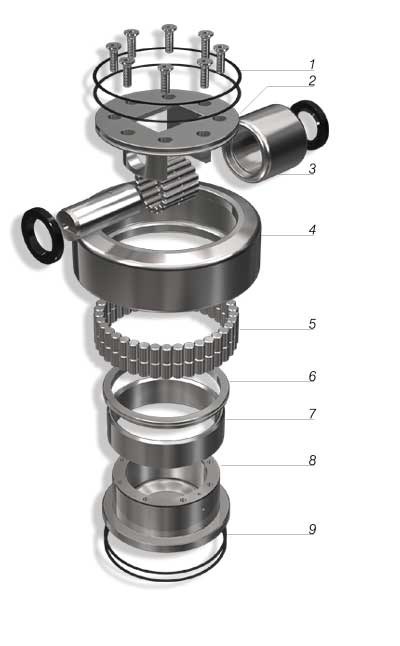 1. Fey seal rings
2. Support
3. Axial part
4. Outer ring
5. Cylindrical rollers
6. Support thrust ring
7. Inner ring
8. Pivot
9. Fey seal rings

Technical Data - Adjustable combined bearings for heavy industry
| CR rif/ref | d (mm) | T (mm) | D (mm) | H (mm) | h (mm) | B (mm) | A (mm) | S (mm) | r (mm) | C (kN) | Co (kN) | Ca (kN) | Coa (kN) |
| --- | --- | --- | --- | --- | --- | --- | --- | --- | --- | --- | --- | --- | --- |
| 400-0069 | 70 | 98 | 170 | 109,7 | 84,7 | 51 | 11,2 | 49,7 | 4 | 195 | 361 | 83 | 129 |
| 400-0087 | 80 | 115 | 185 | 100 | 75 | 47 | 15 | 49,7 | 3 | 235 | 440 | 83 | 130 |
| 400-0019 | 110 | 150 | 220 | 115 | 90 | 60 | 13,5 | 70 | 5 | 367 | 719 | 103 | 230 |
| 400-0038 | 130 | 184 | 260 | 120 | 95 | 60 | 18,5 | 80 | 5 | 475 | 1.000 | 167 | 279 |
| 400-0274 | 150 | 187 | 260 | 135 | 110 | 80 | 10 | 80 | 5 | 566 | 1.300 | 167 | 279 |
| 400-0088 | 140 | 190 | 300 | 140 | 110 | 80 | 10 | 86 | 8 | 549 | 1.272 | 195 | 335 |
| 400-0278 | 140 | 240 | 315 | 240 | 120 | 89 | 10 | 100 | 8 | 785 | 1.690 | 227 | 392 |
| 400-0084 | 140 | 240 | 340 | 150 | 120 | 89 | 10 | 100 | 8 | 785 | 1.690 | 227 | 392 |
| 400-0275 | 170 | 242 | 390 | 200 | 150 | 118 | 11 | 100 | 8 | 1.076 | 2.535 | 227 | 392 |
THE BEARINGS ARE IN ZZ EXECUTION, THEY CAN BE EXECUTED IN 2RS ON REQUEST.
C: Dynamic load - Co: Static load - Ca: Dynamic axial load - Coa: Static axial load

The adjusting of "A" size is made through washer rings put between the main support roll and the lateral guide bearing.
Adjusting washers with 0,3-0,5-1 mm thickness are available.
The bearings are supplied with lubrication holes.
Technical Characteristics - Adjustable combined bearings for heavy industry
Big size adjustable combined bearings can bear very high loads.

They are mainly used for masts of fork lifts up to 50TN and in steel industry where they are used as a wheel for rolling mills carrying cars.


Adjustable combined bearings for heavy industry have the following features:
The outer ring and the axial little roll are made of the best possible 18NiCrMo5 cementation steel. The surface hardness is 60-2 HRC.
The inner ring and little pin are made of core hardened 100Cr6 with hardness 60+2 HRC.
These bearings are normally supplied with seals in ZZ execution. They can also be manufactured in 2RS execution on request. All the bearings of this series are provided with a lubrication system both for the radial and the axial part.
The thrust ring is made of cementation steel.
The central pivot is made of 16CrNi4 cementation steel which guarantees a high resistance to stress and a good welding.